Alicia Keys is not only famous for having a unique, forgotten beauty, but she is also one of the top female singers of her generation, changing it up with the ability to not only sing, but also write-and play-her own music. Although Alicia Keys was originally one of the world's prodigy children at piano, she has since grown into a fascinating star of colossal proportions, acclaim and awards.

Real name: Alicia Augello Cook (Alicia Keys)
Date of birth: January 25. 1980
Place of birth: Manhattan, New York, USA
Astrology Sign: Aquarius
Height: 5' 5½" (1.66 m)
Residence: New York City
Hair color: black
Eye color: brown
Fathers name: Craig Cook
Mothers name: Terri Augello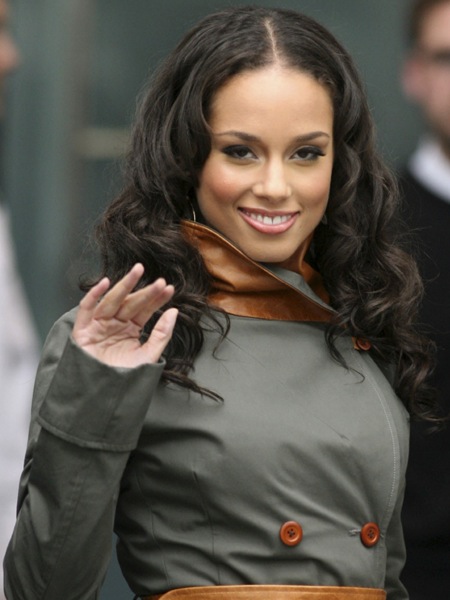 Born Alicia Augello Cook on 25 January 1980 in New York City, Alicia Keys only began taking piano lessons at age seven because her mother made her. But by age 16, Alicia was graduating from the Professional Performance Arts School of Manhattan as valedictorian and a child prodigy in both piano and singing. In 1998, at age 18, Alicia signed with Arista Records and then in 1999 left Arista to join Clive Davis at J Records, where she wrote, produced and recorded her chart-topping albums.

Alicia's big break came in 2001 when she released her debut album "Songs in A Minor," which not only sold six million copies, but also landed her in the middle of the Grammy's, sweeping the awards show by taking home five of the coveted Gramophones. Alicia also found great success with her later albums, like "The Diary of Alicia Keys" which landed her four Grammy awards in 2005.

Aside from being a prodigy and well-loved singing diva, "Alicia Keys" is a fervent activist, often lending her face and fame to groups in support of AIDS research and humanitarian efforts. Alicia is the spokeswoman for Keep a Child Alive-providing AIDS medications to children in Africa and Frum tha Ground Up-providing encouragement and resources to help children succeed in every aspect of life.

Alicia has participated in dozens of charity concerts to end poverty in Africa, earn money for Hurricane Katrina victims, raise AIDS awareness and procure trade justice in Africa. Although Alicia doesn't bank on her beauty and wouldn't need to be beautiful to be successful in music or in her activism she has been featured repeatedly on the covers of magazines like Vibe, Vanity Fair, SevenTeen and Teen.

She has also been named One of the Most Beautiful people in the world dozens of times by magazines and voting groups like People Magazine-she was voted one of the 50 Most Beautiful People in 2002, FHM's 100 Sexiest Women in the World-she was on this list in both 2005 and 2006 (in 2005 she was ranked number 95 and in 2006 she was ranked number 65, and finally, VH1's 100 Sexiest Artists-she was ranked number 99.

Alicia Keys Filmography :

- Smokin' Aces (2007)
- The Nanny Diaries (2007)
- "American Dreams" (2003) TV Episode
- "Charmed" (2001) TV Episode (uncredited)
- "Saturday Night Live" (2001) TV Episode
- "The Cosby Show" (1985) TV Episode.